An Nvidia GeForce RTX 4060 Ti price cut is rumored to be on the way, with board partners expected to be able to drop the prices of GeForce RTX 4060 Ti graphics cards shortly. The move is reportedly a response from Nvidia to the imminent launch of the AMD Radeon RX 7800 XT and Radeon RX 7700 XT, which are expected to be announced on August 26 at Gamescom.
The rumor comes courtesy of YouTube channel Moore's Law is Dead, which quotes a source saying that 'a de facto price cut is coming to the RTX 4060 Ti within a couple [sic] weeks…likely right before Starfield comes out.' However, the source also notes that the official retail price is unlikely to change. Instead, Nvidia will reportedly bring down the channel pricing, 'so partners can push more 4060 Ti's [sic] to (or below) MSRP in response to Navi 32.'
It's not yet known how much the price will drop, with the source saying that the price will be guided by the prices of the Radeon RX 7800 XT and Radeon RX 7700 XT when they're announced. These new AMD GPUs are expected to be announced at Gamescom on August 26. You can see the video reporting the leak below.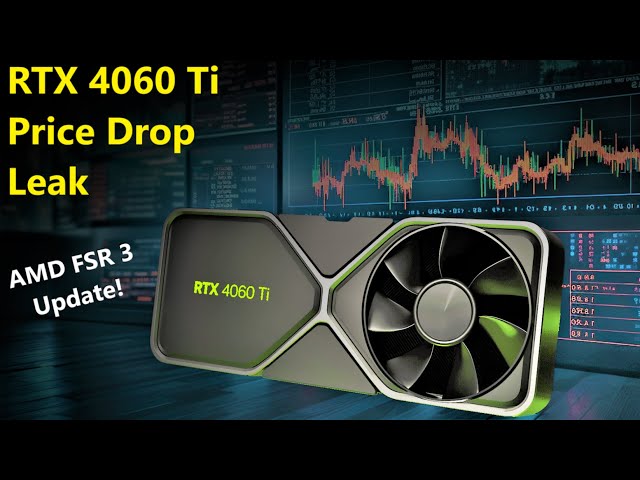 AMD has recently been undercutting Nvidia with its equivalent GPUs. The Radeon RX 7600, for example, ended up being launched with a price of $269, compared to the $299 price of the GeForce RTX 4060. This earned the AMD GPU a place on our guide to the best graphics card, as the best budget gaming GPU.
Meanwhile, the GeForce RTX 4060 Ti currently has a tough job getting gamers excited about it. The new Ada GPU is only fractionally faster than the GeForce RTX 3060 Ti, and the $399 model also only has 8GB of VRAM, a situation that made the 16GB Intel Arc A770 231 percent faster in our memory-hungry Doom Eternal ray tracing benchmark when we tested it.
The RTX 4060 Ti is currently listed on our guide to the best graphics card, as the best option for ray tracing at 1080p, but it only just scraped onto the list by virtue of its support for DLSS 3 and the fact that there's no current-gen AMD competition from AMD yet. That situation could shortly change with the imminent launch of the Radeon RX 7800 XT and 7700 XT, but only if AMD gets the pricing right.
Would you be tempted to buy a GeForce RTX 4060 Ti if it was cheaper, or are you more interested in what AMD's new GPUs might be able to offer? Let us know your thoughts on the Custom PC Facebook page, via Twitter, or join our Custom PC and Gaming Setup Facebook group and tap into the knowledge of our 400,000+ members.