We're mere weeks away from the Starfield release date and in celebration of the upcoming space RPG, one modder has created the most stunning Starfield PC build. Tasked directly by AMD to make a mod to showcase the styling of the game, YouTube modder @modsbyben, used lots of 3D-printed parts to build up the spaceship-like case that's easily worthy of a place on our list of 100 best PC builds.
Custom PC has been celebrating the best PC builds since 2003, and our Facebook group has over 400,000 members. We've seen many custom gaming PCs, from case mods to scratch builds. Here we take a closer look at modsbyben's Starfield PC build.
The Starfield PC started life as a Cougar Cratus case but almost all the external panels have either been replaced or heavily modified so that while the forward-slanting form of the Cratus remains, it's otherwise a hardly recognizable case.
The panels were built up with various layers of 3D-printed parts, adding fine details in a similar manner to the methods used to design spaceships for the likes of Star Wars – the little parts have no function but from a distance they look like they do. However, no universal greeblies were employed here – it was all custom designed.
Once the parts were assembled, a mix of automotive spray paint and acrylic brushed-on paint were used to build up the layers of color before a weathering process was used to give the build a worn-in, real-world, grimy depth to its look. The finishing touch is a custom window-style panel depicting some Starfield artwork giving the effect of looking out on a yet to be explored planet – although it would make more sense if the window showed the inside of a Starfield ship, but we digress.
Inside the PC are one each of the lovely Starfield AMD Radeon 7900 XTX and AMD Ryzen 7 7800X3D that AMD recently gave away. These are mounted in an MSI MAG X670E Tomahawk WiFi motherboard.
The PC was on show at Quakecon 2023 where it was revealed alongside the Starfield-themed AMD RDNA 3 GPU and AMD Zen 4 CPU. You can see the two videos Modsbyben created to showcase the build below.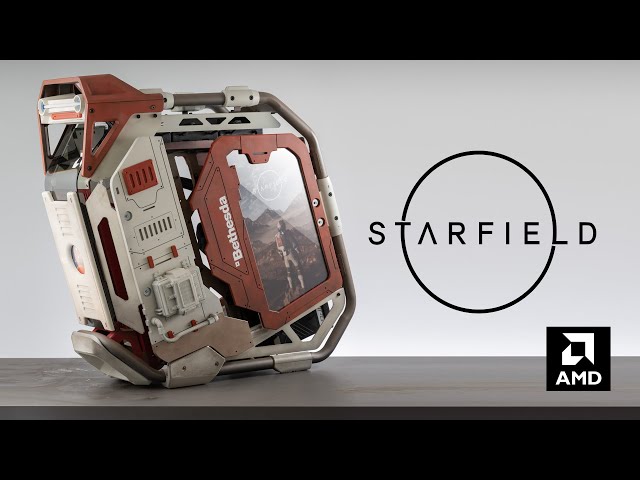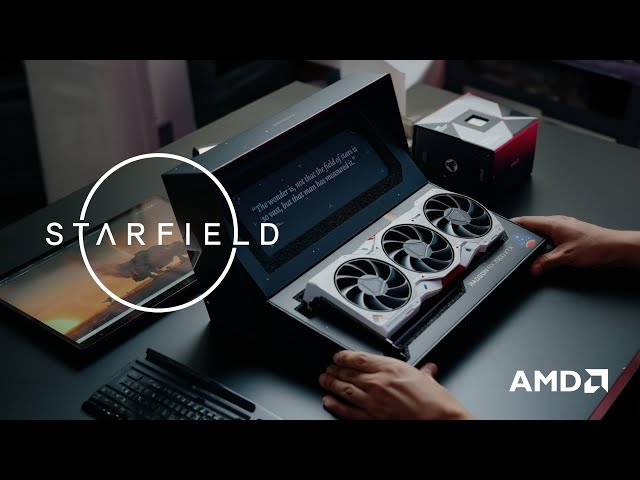 Starfield is controversially an AMD-exclusive with the game not set to feature Nvidia's proprietary DLSS technology at launch. Our editor thinks this Starfield DLSS issue isn't a problem but many other gamers have expressed disappointment at not getting support for technologies, such as DLSS 3 Frame Generation, on such an otherwise stunning-looking game.
For more Starfield information, you can head over to Starfield Database, which is packed with information about every aspect of the game. Our sister site PCGamesN also has loads of information about the Starfield background, as well as Starfield weapons and Starfield companions.
Are you looking forward to Starfield? And are you inspired to create your own Starfield PC by this build? Let us know your thoughts about this build on the Custom PC Facebook page, via Twitter, or join our Custom PC and Gaming Setup Facebook group and tap into the knowledge of our 400,000+ members. If you want to see more outstanding custom PCs and gaming setups, check out our massive guide to the best PC builds.