You might have already seen an ATX 3 PSU or two turning up on the virtual shelves of online stores. The new standard was inked in February 2022, and PSUs have started landing in 2023, with Thermaltake pushing hard into the market at the start.
ATX 3 brings a host of new features, from the new 16-pin power connector to the ability to properly communicate with your PC. In this feature we'll take you through the ATX 3 specs, explain what's new and how it works, as well as whether it's worth buying an ATX 3 PSU.
To put ATX 3 in context, let's step back for a minute and look at its origins. Launched by Intel in 1995, the first ATX standard replaced the archaic AT plug system with a unified 20-pin connector for the motherboard, plus strongly fitting 4-pin Molex plugs for hard drives and optical drives, as well as a smaller 4-pin connector expressly for floppy drives. This standard was superseded by ATX 2 in February 2003, so it's been nearly 20 years since we saw an uptick of the big number.
ATX 2 was primarily introduced to formalize the changes needed to accommodate the CPU drawing power from a more efficient 12V source, instead of 5V, which was itself a response to the rapid increase in CPU TDPs from Pentium 4 CPUs. Sounds familiar? ATX 3 again reflects the needs of recent hardware changes, where graphics cards and CPUs now need a lot more power, and they need it reliably.
The ATX standard served as a minimum to make a safe and legal power supply for PCs, but not necessarily a good-quality power supply. In the interim 20-year period, the 80 Plus certification scheme was introduced, and while it's not perfect, it has pushed the industry to improve power efficiency and quality to a greater extent.
So what does ATX 3 bring to the table? Firstly, you might see advertising for an ATX 3 PCIe 5-ready PSU. This is because the PCIe 5 standard design guidelines include power provision, and that has overlapped with ATX 3 to make sure both standards tie in together.
This power provision is more important for server and industrial applications, which must adhere to stricter power limits and reliability requirements than desktop gaming PCs, and Nvidia has already shown with its PCIe 4-based RTX 4000-series GPUs, such as the Nvidia GeForce RTX 4080, that you don't need to make an add-in card with PCIe 5 signaling to use the ATX 3 standard.
The interweaving of PCIe 5 and ATX 3 is complicated in other areas too, as the former includes support for a new 48V power rail, and 48VHPWR cable, which isn't present in ATX 3. Both standards support the same maximum power output, but higher voltages can provide better power efficiency.
In fact, adopting 24V or 48V instead of 12V has been quietly discussed in the industry for many years already, but as the recently launched 12VO standard (which ditches 3.3V and 5V rails) has shown, a big change won't see mass adoption in a market that only ever sees iterative updates.
Enterprise-grade equipment has different build pressures – efficiency being one of them, so this change will be more readily adopted there, but don't expect these higher voltages to be regular features of our desktop power supplies soon.
Finally, a PSU that talks to the system
Power supplies have generally always been dumb boxes. They aren't aware of what's going on in the PC to which they're connected. Instead, a classic desktop PSU is like a reservoir into which the PC hardware sticks a straw and guzzles power. ATX 3 takes the smallest of steps to verify that a graphics card isn't too thirsty.
The standard recommends that power supplies rated over 450W include the new 12VHPWR (high-power) cable, which replaces the 6 or 8-pin PCIe cable used by almost every graphics card made in the past 18 years.
12VHPWR was 'sort of' introduced by Nvidia via a 12-pin connector on the RTX 3090 Founders Edition card in 2020, but ATX 3 has gone further, adding four smaller pins that sit on top of the main 12-pin connector, creating a 16-pin connector that allows the graphics card to talk to the PSU directly, so the PSU and GPU can negotiate a safe power draw.
ATX 3 12VHPWR power cable specs list:
| | | | |
| --- | --- | --- | --- |
| Sense0 | Sense1 | Initial permitted power at system power up | Maximium sustained power after software configuration |
| Gnd | Gnd | 375W | 600W |
| Open | Gnd | 225W | 450W |
| Gnd | Open | 150W | 300W |
| Open | Open | 100W | 150W |
The standard also requires the cable to use a thicker 16AWG gauge wire, up from 18AWG used previously. This 16-pin 12VHPWR connector supplies, in theory, up to 600W. However, if the sideband channel is absent, that signal is left 'open' and not tied to ground, and the 12VHPR cable is limited to only 150W.
Because ATX 3 power supplies are generally launching later to market than the first wave of Nvidia RTX 4000-series GPUs that use them, adaptors that combine four 8-pin PCI-E power cables into a single 16-pin connector have been provided in graphics card boxes instead.
The Nvidia-designed adaptor actually has some safety brains built into it, with a chip that senses if the first and last +12V pin in the four 8-pin plugs are present before it says 'yes, that cable is correctly installed'. You can still run the graphics card using only three of the four cables, but the chip will send a 450W (open + ground) signal instead, telling the software to limit the amount of power that can be drawn.
Alternatively, Corsair was the first brand to provide a replacement 12VHPWR cable for some of its existing power supplies (pictured above). It plugs into two modular connectors on the rear of its PSU, which might seem foolhardy compared to the Nvidia adaptor needing four 8-pin PCIe power cables to provide 600W safely, but with the fatter 16AWG gauge wire, fewer connectors are needed to provide the same power.
Since only a ground + ground signal is required from the first two pins of the sideband connector, Corsair attaches those to the ground wires, making it 600W-capable with no extra chip needed.
These are all good ways to use older ATX 2-era power supplies with new gear, but you might have seen a potential issue. The sideband signaling is elementary, and it's deadly easy to hack. By hooking these two pins to a ground on the power supply, you can bypass this safety limiter and unlock the full power, regardless of how it's been plugged in.
It doesn't take a stretch of the imagination to think that cheap adaptors advertising a capability of '600W full power' could be sold with intentional bypasses, and the average buyer would be none the wiser.
ATX 3 power excursion
Also, even with the ATX 3 stamp, a power supply can even be sold without the 12VHPWR connector entirely. That's because not every PC build uses a graphics card, giving ATX 3 power supplies the option to omit the 12VHPWR cable. The only regulation here is that its power excursion capabilities – accommodating momentary peak loads beyond the maximum wattage of the power supply – are slightly limited.
Power excursions well beyond the rated wattage of the graphics are important to consider, because even current-generation graphics cards cause them, and without supporting them, it can cause a power supply to simply shut off as over-current and over-power protection kicks in.
Power excursion percentage of PSU by rated size (Sense1):
| | | | |
| --- | --- | --- | --- |
| PSU ≤ 450W and PSUs without 12VHPWR connector | PSU > 450W and 12VHPWR connector present | Time for power excursion (TE) | Testing duty cycle |
| 100 percent | 100 percent | Infinite | — |
| 110 percent | 120 percent | 100ms | 50 percent |
| 135 percent | 160 percent | 10ms | 25 percent |
| 145 percent | 180 percent | 1ms | 25 percent |
| 150 percent | 200 percent | 1µs | 10 percent |
Clearing up confusion
All this confusion stems from the language used in the ATX 3 documentation, which is expressly strict on some areas, while being hand-wavey on others. For example, the document says it's expected that a power supply has the 12VHPWR cable. That doesn't mean it's required. If the cable is present, it's required to be a 16-pin (12+4-pin arrangement), but it's optional for the power supply itself to support the 4-pin sideband signaling from the graphics card.
Intel recommends, but doesn't require, labeling the connector with the maximum wattage, so the user knows exactly what the 12VHPWR cable can provide. This leaves the door open to legitimate ATX 3-stamped power supplies being sold without a 12VHPWR cable at all, or with a cable, but you don't know how much power it can provide. It's messy.
If you do go out shopping especially for a new ATX 3-stamped power supply, the bottom line is that you'll need to read the reviews and look at the product page closely before you buy. Don't only look for the ATX 3 stamp on the box, don't buy one without the 12VHPWR cable included if you intend to use a graphics card, and don't buy unverified adaptors or cables.
Finally, we do have top address the elephant in the room, which is that some people have experienced the 12VHPWR connector on Nvidia Ada cards melting. Gamers Nexus managed to reproduce the effect in its lab (see the video below), where the cable was producing smoke. The site also analyzed the cables, and put the problem down to a number of factors, including manufacturing debris inside the cable connectors, as well as improper installation.
It's a rare occurrence (less than one percent), but Nvidia has stated that the company and its partners are 'committed to supporting our customers and ensuring an expedited RMA process for them.' If you do buy a graphics card that requires a 16-pin 12VHPWR cable, make sure it's well and truly plugged into the graphics card socket and clicked into place before switching on your PC.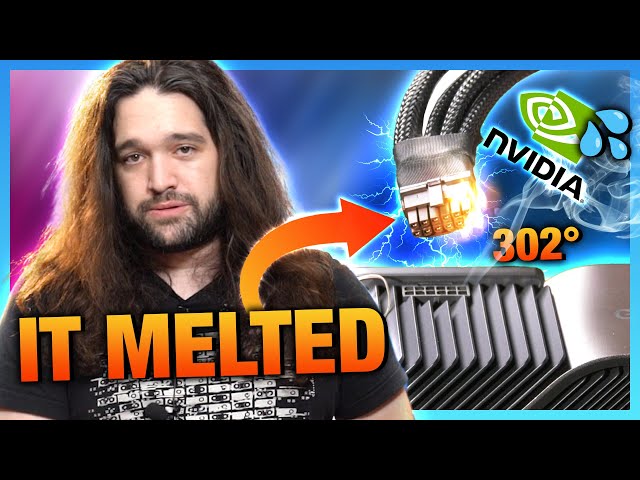 Multi-rail is dead, long live multi-rail
In the early to mid-2000s, the power needs of average PCs grew greatly as CPUs and GPUs rapidly became more demanding. To meet that need, power supply manufacturers started adding more 12V rails to their designs in order to scale their performance.
This worked, but the argument against it was you'd never have access to all the rated power on the box unless you used every rail evenly, which really depended on the build – a single-GPU system with multiple hard drives didn't have the same power requirements as a multi-GPU system with just one hard drive.
As a result, the trend changed, and power supply brands began to design monster single 12V rails that could supply all the power of the unit, no matter what you plugged into it. It deferred the safety check element to the components, such as a graphics card opting for one, two or three 8-pin power connectors to split its power needs without going beyond the rated max of each cable.
That hands-off approach is now over. The consequence of the current situation, where a single graphics card with tens of billions of transistors needs insatiable amounts of power, and then adds a layer of enormous power excursions on top, means that multi-rail designs are now safer because they ensure that no single rail, and cable, can be required to draw too much current under a certain workload, causing a fire.
ATX 3 defines four 12V power rails – 12V2 supplies the CPU expressly, 12V3/V4 share duties for the 12VHPWR cable, and 12V1 is divided among the other components.
To the extreme
In order to accommodate spikes of extreme, sudden power demand, the nominal voltage of the 12V rail is also being boosted to up to 12.2V to compensate for voltage drops on sudden, huge power excursions.
It's not just graphics cards that are connected to the 12V rails though. Intel appears confident that a modern motherboard VRM will sufficiently control the precise voltage for the CPU, not to mention add-in equipment such as NVMe drives, SATA drives, old optical drives or even niche hardware that might still be used, which still has to withstand the persistent slight increase in voltage.
An ATX 3 power supply also must accommodate a 5x higher slew rate than previously. Slew is the rate at which the voltage or current changes for 12V transient loads. With an RTX 4090 nearly trebling the transistor count over the previous RTX 3090 Ti, tens of billions more of tiny, sensitive transistors suddenly firing up or turning off during a scene change, map changes or many other scenarios during gaming or everyday PC use, can create unpredictable load patterns, so more stringent power control is required.
As a result, power supplies fitted with the 12VHWPR connector are required to support a 2x greater change in current draw per microsecond than those without one.
Power efficiency
If a power supply designer isn't interested in meeting Energy Star or CEC legal requirements, which are US-centric, the ATX 3 standard also requires minimum efficiencies at 20/50/100 percent load of just 65/72/70 percent respectively. In terms of meeting the minimum spec, it's basically a shoulder shrug and a missed opportunity to enforce less wasteful products on a global scale.
Thankfully, every reputable PSU brand commits to selling a single design that includes the US market, so also commits to CEC and Energy Star requirements, in addition to a marketable 80 Plus certification. As a minimum, this standard requires efficiency at 230V of 88/92/88 percent for 20/50/100 percent loads, which is a shade below 80 Plus Gold standard.
Looking across the power supply market today, 80 Plus Gold has effectively become the minimum spec of high-power units already, so ATX 3 will continue this trend.
The standard also states that the minimum efficiency for power supplies over 500W should be 70 percent at 2 percent of max-rated capacity. For example, this means a 750W power supply will need to be at least 70 percent efficient at 15W output.
This basically covers situations when your PC is in a soft-off state or in standby, but you still have mice, keyboards or gamepads connected, and still sipping power, some RGB bling is still blaring, or phones are charging from specific USB ports. In this case, ATX 3 even goes beyond 80 Plus, which doesn't mandate a sub-20 percent load efficiency unless it's 80 Plus Titanium – its highest rated specification – so it should encourage a higher quality design.
Wakey wakey
Sticking with the subject of low power states, one of the PC's new power states is Alternative Low Power Mode (ALPM), which has replaced Alternative Sleep Mode (ASM). Windows 10/11 calls ALPM 'Modern Standby', but unlike every other power state that simply requires a BIOS switch or in-OS option checkbox, Windows must be entirely reinstalled in order to support Modern Standby.
Modern Standby is S0 – a low-power state between 'screen off but still awake' and S3 standby. As with your smartphone, this allows your PC or laptop to wake up instantly at the touch of a button. This has a knock-on effect on power supply design, because Alternative Low Power Mode (ALPM) leans on the +5VSB standby rail. This rail is usually only designed to carry 3A and could previously be considered less important than 12V rails, so it's often supplied from a separate circuit inside the power supply.
The problem is that many people charge their smartphones from their PC or laptop, with quick charging able to draw the full 3A using 5V, so the +5VSB rail must be resilient enough to wake up the system even in these scenarios.
The ATX 3 spec suggests it supports up to 3.5A for half a second before overcurrent protection kicks in, and it also provides a target (but not minimum) power efficiency of 75 percent from ~18 percent loads and upwards.
Push the button
Finally, the ATX 3 standard requires a power supply to achieve a minimum of 175,200 power cycles, which equates to 48 years of use if you turn it on ten times a day. That's plenty. Although notably, it doesn't include the fan in that requirement, which as a mechanical item will certainly fail much sooner, but probably not in the time before you're upgrading anyway. By then, we'll probably be looking at ATX 4.
Do I need an ATX 3 PSU?
Let's state upfront that you don't need an ATX 3 PSU if you're just upgrading your current PC, perhaps to a new graphics card, so don't worry if you just want to put in a new CPU or extra memory. However, if you're building a high-end rig from scratch with a next-gen GPU, such as the Nvidia GeForce RTX 4090, it's worth considering making the jump to ATX 3, especially if you want to avoid using ugly connector adaptors.
That's it for our guide to ATX 3 – you can now consider yourself fully briefed on the latest PC power supply standards. If you're looking to build a new rig, make sure you check out our full guide on how to build a gaming PC, as well as our guide to the best gaming CPU.