The Asus ROG Ally is a handheld game console that's a rival to the Valve Steam Deck but that runs Windows rather than Steam OS. It was first revealed – rather confusingly – on April 1st 2023 (Aprils Fools Day) but it was no joke. Instead, this device looks set to potentially shake up the handheld gaming market.
The Asus ROG Ally specs, price, and release date were officially unveiled on May 11th 2023, all of which you can read about below.
Asus ROG Ally live stream
Watch the Asus ROG Ally launch live stream here:
Asus ROG Ally specs vs Steam Deck
The Asus ROG Ally specs list is:
Asus ROG Ally Extreme
Asus ROG Ally
Steam Deck
Architecture
AMD Zen 4 / RDNA 3
AMD Zen 4 / RDNA 3
AMD Zen 2 / RDNA 2
APU
AMD Z1 Extreme eight cores / 16 threads up to 5.1 GHz
AMD Z1 six cores / 12 threads
AMD Van Gogh four cores / eight threads up to 3.5 GHz
SoC GPU
780M 12 CU RDNA3
4 CU RDNA3
RDNA2 8 CU @ 1.6 GHz
External GPU
ROG XG Mobile (up to GeForce RTX 4090)
ROG XG Mobile (up to GeForce RTX 4090)
N/A
Memory
16GB LPDDR5
16GB LPDDR5
16GB LPDDR5-5500
Storage
512GB PCIe 4x PCIe 4
TBD
64GB eMMC (1x PCIe 2)
256GB/512GB NVMe (4x PCIe 3)
Display
7″ 1,920 x 1,080 120Hz
7″ 1,920 x 1,080 120Hz
7″ 1,280 x 800 60Hz
Connectivity
TBD
TBD
Wi-Fi 5, Bluetooth 5
Battery
TBD
TBD
40 Whr
Weight
608g
608g
669g
Dimensions
28.0 x 11.3 x 3.9 mm
28.0 x 11.3 x 3.9 mm
29.8 x 11.7 x 4.9 cm
OS
Windows 11
Windows 11
Steam OS/Windows 11
Price
$699
TBD
$399 (16G+64GB)
$529 (16G+256GB)
$649 (16G+512GB)
The Asus ROG Ally is a Windows 11-based handheld gaming device with a 7-inch, 1080p (1,920 x 1,080), 120Hz display, and integrated controls that should, in theory, allow access to your whole library of PC games while on the go.
Its arrival follows that of the incredibly popular Steam Deck, which offers a similar overall experience but uses a lower resolution 1,280 x 800 pixel screen that's also limited to just 60Hz. The Valve console also runs a custom Linux distro rather than Windows and is only optimized for running Steam games, although users have been able to dual-boot the device to also run Windows.
The ROG Ally uses a new AMD Ryzen Z1 mobile APU, that incorporates the latest Zen 4 CPU architecture and RDNA 3 graphics architecture. This comes in two variants, one with an eight-core CPU and 12 compute unit (CU) GPU and the other using a six-core CPU and 4 CU configuration. The flagship AMD Z1 Extreme APU also has a 5.1GHz clock speed.
In comparison, the Steam Deck also uses an AMD APU but it's based on older Zen 3 CPU and RDNA 2 graphics technologies. Plus, the CPU has only four cores and a 3.5GHz clock speed limit while the GPU has an eight compute unit (CU) configuration.
The upshot is that the Asus ROG Ally is considerably faster across the board, which it'll need to be if it hopes to hit the higher 1080p resolution and 120Hz refresh rate of its screen.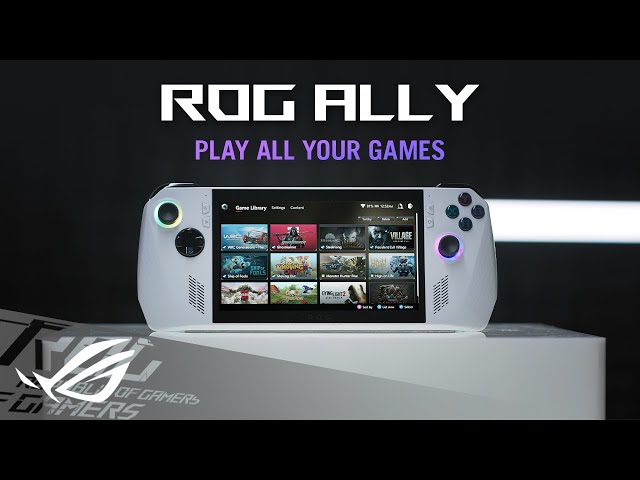 Asus ROG Ally battery life
The Asus ROG Ally battery size is 40Wh, which translates to an Asus ROG Ally battery life of around 2.5 hours of gaming. That's slightly better than the Steam Deck that delivers 1.5-2 hours of gaming but is still quite a limitation for a portable device. The ability to switch the screen from 120Hz to 60Hz helps the ROG Ally eke out more battery life.
Asus ROG Ally price
The Asus ROG Ally price is $699 / £699, which is more expensive than the cheapest Steam Deck, but around the same price as the 512GB Valve Steam Deck. A cheaper model is set to launch later this year, which will have reduced specs and be priced at $599.
Asus ROG Ally release date
You can pre-order the Asus ROG Ally right now from major retailers like Best Buy, as well as directly from Asus, with devices expected to ship around June 13th.
Are you excited about the Asus ROG Ally? Or do you own a Steam Deck and are sticking with it? Let us know your thoughts on the Custom PC Facebook or Twitter pages, or join the discussion on our 350,000+ member Custom PC and Gaming Setup Facebook group. Meanwhile, follow these links for more AMD news and Asus news.