Nvidia has released its mid-range GeForce RTX 4070 gaming GPU, bringing the company's Ada architecture to the mid-range sector for the first time. Not only that, but the Founders Edition graphics card released today has a retail price of just $599, in a sign that the overpriced GPU boom could finally (kind of) be coming to an end.
Nvidia is targeting the GeForce RTX 4070 at "users with a GeForce GTX 1080 or GeForce RTX 2070," for whom the company says "the RTX 4070 offers a tremendous upgrade." Make sure you check out our full Nvidia GeForce RTX 4070 review to see how it performs in benchmarks.
Built using the same Ada Lovelace architecture as the mighty GeForce RTX 4090, the 4070 supports Nvidia's DLSS 3 AI frame generation technology to speed up frame rates, and promises vastly improved ray tracing performance over equivalent GPUs from previous generations.
The new GPU is based on the same 295mm² AD104 chip as Nvidia's GeForce RTX 4070 Ti, but with 14 fewer streaming multiprocessors (SMs) enabled, meaning it's less powerful than the RTX 4070 Ti, but should still be potent when it comes to frame rates in games.
Each SM contains a single 3rd-gen RT core for real-time ray tracing in games, making for a total of 46. You'll also find 128 CUDA cores in each SM, meaning you get a grand total of 5,888 CUDA cores in the GeForce RTX 4070. The new GPU also contains 184 4th-gen Tensor cores, which Nvidia uses in its DLSS resolution scaling tech.
As a point of comparison, the RTX 4070 Ti has 60 SMs enabled, giving it 7,680 CUDA cores. The RTX 4070 also has slightly slower clock speeds than the Ti variant, with Nvidia quoting a max boost clock of 2475 MHz for the RTX 4070, compared with 2610 MHz for the 4070 Ti.
Like the RTX 4070 Ti, GeForce RTX 4070 cards are also equipped with 12 GB of GDDR6X memory running at 1313 MHz (21 GHz effective), which is connected through a 192-bit memory interface, giving you a total memory bandwidth of 504 GB/s. However, AMD has already come out fighting this morning, claiming that 12 GB of graphics memory is not enough in some circumstances.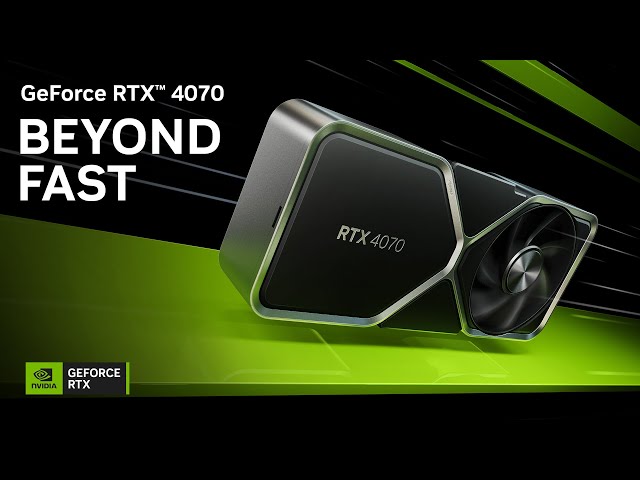 As with Nvidia's other Ada RTX 4000-series GPUs, the RTX 4070 hooks up to a 16-pin PCIe 5 power cable, which you'll need to make sure is firmly connected. Cards will also come with an adaptor that takes two standard 8-pin PCIe power plugs, although Nvidia also says certain models may just use one 8-pin PCIe power cable. Nvidia recommends using at least a 650 W power supply with the RTX 4070.
The Founders Edition card
Unlike the RTX 4070 Ti, the RTX 4070 is getting a Founders Edition card that you can buy direct from Nvidia today. In photos, it looks very similar to the GeForce RTX 4080 and RTX 4090 Founders Edition cards, but it's more compact.
The card has the familiar die-cast aluminum body and dual axial fans of other Founders Edition cards, but it only takes up the space of two expansion slots, while the other two cards took up three slots. The GeForce RTX 4070 Founders Edition also features an eight-layer PCB, with a six-phase power supply for GPU and two dedicated power phases for the GDDR6X memory.
Nvidia says the cooler for the RTX 4070 Founders Edition has several benefits over the cooler used on the RTX 3070 and 3070 Ti cards. For starters, the company claims the RTX 4070 card's axial fans push out 20 percent more airflow.
Nvidia also says the cooler has a copper pedestal to draw heat from the GPU core, which is attached to an aluminum base and fin stack. Meanwhile, four copper heatpipes sit directly on the GPU core area.
GeForce RTX 4070 price
The GeForce RTX 4070 price is $599 (£599).
The price of the RTX 4070 is much lower than that of previous RTX 4000 cards, but still high compared to previous-generation GPUs. In the current market, it's a reasonable price for the performance on offer.
GeForce RTX 4070 specs
The GeForce RTX 4070 specs list is:
| | |
| --- | --- |
| | |
| Stream processors / CUDA cores | 5,888 |
| RT cores | 46 (3rd-gen) |
| Tensor cores | 184 (4th-gen) |
| ROPs | 64 |
| Base clock | 1920 MHz |
| Max boost clock | 2475 MHz |
| Memory | 12 GB GDDR6X |
| Memory clock | 1313 MHz (21 GHz effective) |
| Memory bandwidth | 504 GB/s |
| Memory interface | 192-bit |
| Card interface | 16x PCIe 4 |
| Power connectors | 1 x 16-pin / 2 x 8-pin |
| Form factor | Dual-slot |
With a half-reasonable price, and the promise of solid gaming performance, the GeForce RTX 4070 looks like it's going to be a great card, and we'll be posting a review of this new Nvidia GPU shortly.
Are you tempted to jump on Nvidia's Ada bandwagon now? Let us know your thoughts and questions on this post by joining the conversation on the Custom PC Facebook page, via Twitter, or join our Custom PC and Gaming Setup Facebook group and tap into the knowledge of our 350,000+ members. You can also find more graphics card recommendations in our best graphics card guide.