PC cooling specialist Cooler Master has issued a warning shot to Noctua, by unveiling the new Cooler Master MasterAir MA824 Stealth – a massive, no-nonsense CPU cooler designed to tame top-end CPUs running at full load with the power of air.
There are no superfluous extras such as RGB lighting, but Cooler Master claims this tank of an air cooler can cope with a thermal design power (TDP) of up to 280W, meaning it could even handle the mighty Intel Core i9-13900K at full load.
The news follows the demo of a Cooler Master color-changing heatsink at Computex, although this tech isn't used in the MA824 Stealth. Meanwhile, Noctua recently showed off a new design of its similar dual-fan, dual-tower Noctua NH-D15, which will be in direct competition with the MA824 Stealth.
Cooler Master is also making some bold claims about the new 'superconductive' approach to heatpipes used on the MA824 Stealth. According to the company, the interior of each heatpipe contains a 'unique composition of different [copper] powder sizes,' which it says is 'carefully calibrated based on heat load and application.' This is shown visually in the video below.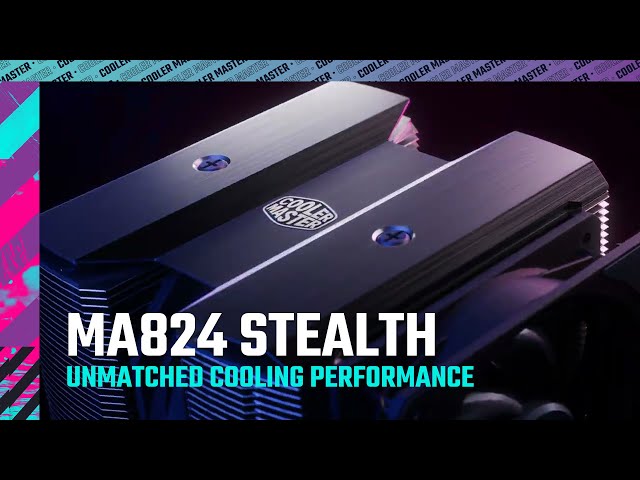 Cooler Master claims that the improvement of heat transfer gained from this approach can boost cooling performance by up to 30 percent compared to a traditional heatpipe design, based on tests conducted on similar models, such as the MasterAir 412 Stratos.
The MA824 Stealth has a dual-tower heatsink design, assisted by two fans. Cleverly, the fans have a staggered layout, with the large 135mm Cooler Master Mobius fan sitting in the middle, and the smaller 120mm Mobius fan at the front.
This means there's still a decent 42mm of clearance for your memory at the front of the cooler, which isn't enough for a Corsair Dominator Platinum kit, but should just about give you room for a low-profile kit, such as the Kingston Fury Renegade.
Cooler Master CEO Jimmy Sha described the Master MA824 Stealth as 'a statement piece for any setup,' adding that Cooler Master is continuing to 'push boundaries for PC enthusiasts, power users, and custom builders worldwide.'
Cooler Master MasterAir MA824 Stealth specs
The Cooler Master MasterAir MA824 Stealth specs list is:
| | |
| --- | --- |
| | |
| Supported CPU sockets | LGA1700, LGA1200, LGA1151, LGA1150, LGA1156, LGA1155, AM5, AM4 |
| Color | Black |
| Dimensions (mm) | 162 x 151 x 166 (L x W x H) |
| Max TDP | 280W |
| Fans | 1 x 135mm, 1 x 120mm |
| Heatpipes | 8 |
| Fan power connector | 4-pin |
| Fan bearing | Loop dynamic |
| RGB lighting | No |
Cooler Master MasterAir MA824 Stealth price
The Cooler Master MasterAir MA824 Stealth price is $125 (£115), which is very expensive for an air cooler, but there's also an enormous amount of cooling power on offer.
Price: Expect to pay $125 (£115).
Are you more interested in raw cooling power than frills such as RGB lighting? Let us know your thoughts on the Custom PC Facebook page, via Twitter, or join our Custom PC and Gaming Setup Facebook group and tap into the knowledge of our 390,000+ members.