We've been treated to a legion of AIB partner models of the powerful Nvidia GeForce RTX 4090, but it could be time to crown the GPU to rule them all. Asus is launching its flagship ROG Matrix RTX 4090 this week on Tuesday, September 19, 2023. This unparalleled pixel pusher, first announced at Computex, is liquid cooled with its own 360mm AIO cooler and is confirmed to hold the record for the fastest overclocked GPU clock speed.
Asus has pulled out all the stops to ensure the ROG Matrix RTX 4090 is an absolute behemoth. It uses liquid metal paste to improve heat transfer between the cooler and GPU, meaning the components around the GPU die all have to be securely sealed away from the paste so they don't short out, a highly unusual design choice for a factory-produced card. Asus says it's used UV resin for this job.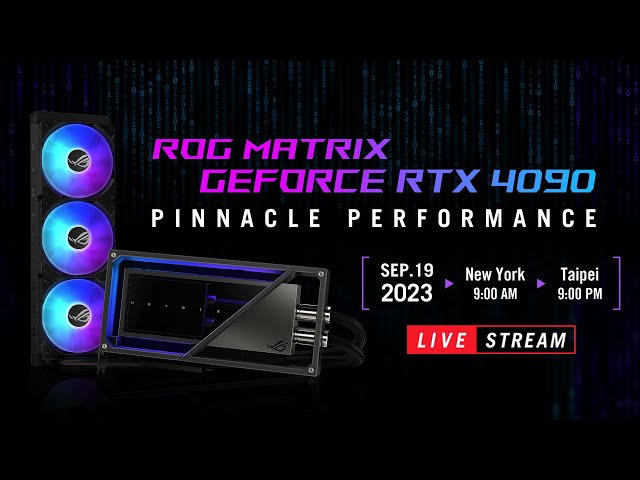 The ROG Matrix RTX 4090 is also kept in check by a beastly 360mm AIO cooler, which will require plenty of room in your case. The cooler has a daisy chain fan system to cut down on clutter, so all the fans are effectively powered and controlled by one header. An advantage of having three fans and a thick radiator is that you can keep the GPU cool without making too much noise. In fact, Asus says the fans spin at under 1,000rpm and keep the GPU operating at just 60°C. That's pretty cool when you consider the enormous power this graphics card boasts.
It also has a custom waterblock with a full-cover cold plate, which cools the memory and VRMs as well as the GPU. There's actually no extra fan on the card itself: all the cooling comes from the AIO system.
And from what we've seen overclockers do with the card, it clearly has a very capable PCB. US overlocker, Splave, hit a world record 4005MHz clock speed with Asus' card, although liquid nitrogen was used to achieve this result, rather than the AIO cooler supplied with the retail edition. This astonishing speed was measured with the GPUPI v3.3 (32 billion) benchmark, surpassing an earlier record set by the Colorful RTX 4090 iGame Lab, on a limited edition RTX 4090 that was specifically designed for absurd overclock speeds.
Asus teased the launch of its flagship ROG Matrix GPU on Twitter, saying 'The wait is almost over!' Those particularly excited to witness the release of this pixel pushing powerhouse can tune in live on YouTube at 9:00am EDT when the card hits retail on Tuesday.
Asus has clearly set out to create the best graphics card bar none, although it's unlikely to be cheap. While the price of Asus' flagship card hasn't been announced, it could end up costing $3,000 or more, especially considering the already-high price of RTX 4090 cards. Asus confirmed the card will be a limited edition, but has yet to declare how many cards will be available to consumers.
Are you going to try to snag yourself an Asus ROG Matrix RTX 4090? Let us know your thoughts on the Custom PC Facebook page, via Twitter, or join our Custom PC and Gaming Setup Facebook group and tap into the knowledge of our 420,000+ members.