If you're a sophisticated person who likes the smell of rich mahogany, then could we possibly interest you in this walnut and brass wood PC build? We challenge anyone to stick this on their desk and not immediately start speaking in a prim and proper English accent. There's just something about this PC build that screams elegance and we absolutely need it in our lives.
Custom PC has been celebrating the best PC builds since 2003, and our Facebook group has over 420,000 members. We've seen many custom gaming PCs, from mods based on existing case designs to scratch builds. Here we chat to Matthew Chew about how they assembled and designed this walnut and brass PC build.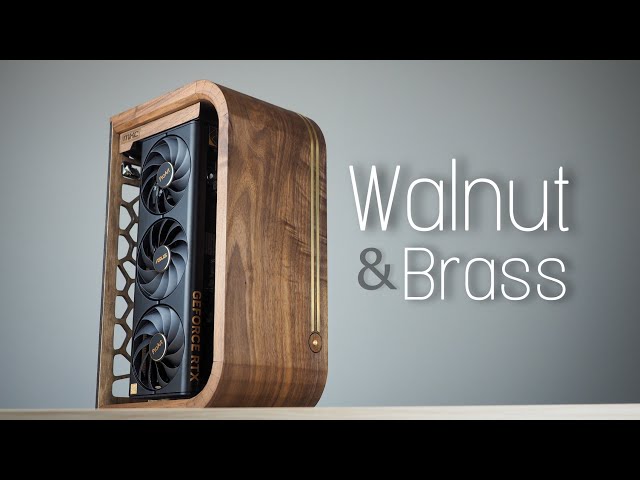 Custom PC: Were there any key influences for your setup?
Matthew: The build was inspired by the Asus ProArt GPU line up. I wanted to build a PC that followed the theme of black with tasteful gold accents. This was achieved thanks to the careful aesthetic modification of stock components, along with using dark walnut and brass inlays for the case itself.
Custom PC: How did you plan out this setup?
Matthew: I typically start my ideas with sketches using good old fashioned pencil and paper to work out rough concepts. Then I'll use Fusion360 to create a model of the build and finalize the details and measurements.
Custom PC: What tools, machinery and materials did you use, if any?
Matthew: I'm limited to building on my apartment balcony and I don't have many tools. I used a circular saw, drill press, router, jig saw, cordless drill, and a xTool D1 pro laser for this build. My materials consisted of American walnut, birch plywood, and brass inlays.
Custom PC: How long did it take you to make this setup, from start to finish?
Matthew: The build took approximately three months from conception to what you see in the final video.
Custom PC: Did you come across any difficulties in designing and making your setup?
Matthew: I faced a few difficulties. One particular challenge was kerf bending the solid wood to the desired shape, while still maintaining the tight tolerances required to fit in my PC components. Unlike typical woodworking, components can't be adjusted as the build progresses. An example of this is if the cabinet frame was cut 5 mm too short, you could simply shorten the drawers to fit them and it would be okay. However, you can't shorten a motherboard or GPU if you get it wrong. Instead, you would have to start over from scratch.
Custom PC: Are you completely happy with the end result, or is there anything else you'd like to work on next?
Matthew: Overall, I am very satisfied with how the project turned out. The things I would look to improve on are getting smoother bends on the wood frame.
Walnut and Brass PC build specs
There you have it, a wooden PC case can be made super efficient while also looking the part. There's some fantastic creativity and execution on display here from Matthew and it's certainly got us thinking what other materials could be used in future builds!
Got an incredible creation you want featured on CustomPC? PC builds and setups can be submitted to us via Twitter, Facebook, or via Email.