You don't need a chest full of gold coins to build a PC that stands out from the crowd, and that's demonstrated perfectly by this witch house PC build, built by PC modder Peter Nefedov, which instead has a little model chest full of magic. There's no expensive water-cooling gear, or high-end silicon – instead, the focus is on creating a model that Alice in Wonderland could explore after consuming a Drink Me potion.
Custom PC has been celebrating the best PC builds since 2003, and our Facebook group has over 390,000 members. We've seen many custom gaming PCs, from case mods to scratch builds. Here we chat to Peter about how he made this dollhouse PC build.
How did this witch house PC start? 'I walked into a children's toy store,' Peter tells us, 'and saw an aquarium in which a dollhouse was created. I was amazed, and thought: "Why can't you do the same in a computer case?"'
The result is a complete transformation of the interior of the Captain S. V7-DC mini-ITX case that Peter used for this build. It's difficult to believe there's a PC behind it all, but it's there, with the 92mm fan for the ID-COOLING IS27i CPU cooler placed behind the big circular design in the middle. You can see the PC before and after its makeover in the image below.
Does that cause any problems with airflow? 'The airflow is obstructed in two places,' Peter admits. 'It's hampered by a bedside table at the beginning of the case and a bookcase at the end. I left some space, but next time I'll think about improvements I can make.'
Thankfully, none of the components run particularly hot. There's a quad-core Intel Core i3-13100 under that CPU cooler, and a PNY Nvidia RTX A2000 workstation graphics card plugged into the MaxSun mini-ITX motherboard's single 16x PCIe graphics slot.
'The components cost me about $700.' Peter says. 'The most expensive part was the graphics card, which I bought for $250 secondhand from another owner. It all came down to power consumption, otherwise I would have thought about more powerful components.'
Of course, the main attraction of this PC is the witch house itself, filled with furniture, trinkets, potions, and books. There's a nod to Alice in Wonderland with an Eat Me bottle on the top shelf, a broomstick and chest in the front, and a load of little books on the tiny shelves.
Some of these parts were 3D-printed and painted, while others came from a more traditional source of miniature goodies. 'I bought a dollhouse model,' Peter says, and it was a pleasure to assemble it! Every detail was made to a high-quality standard, and wanted to be put on the shelf.'
Peter isn't entirely happy with the end result. When I'd finished it, I realized that I had made a few mistakes,' he tells us. 'Id like to add another fan – a 40mm ARCTIC S4028-6K PWM model, to help cool the video card.' He also says he'd like to 'fix the shortcomings of the 3d models on the printer' and 'optimize the airflow.'
Finally, one of the features we love about this build, is the ability to turn on the lights, which have a homely yellow glow, rather than a garish RB rainbow, to make it look like a real home inside. You can see these in action in the video below, while taking a tour of the whole PC.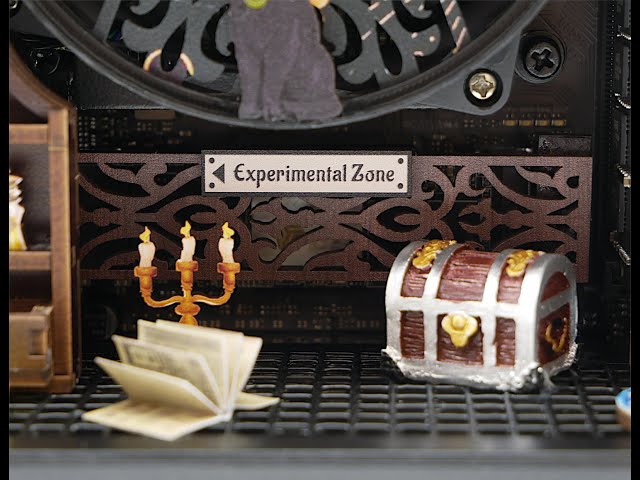 Witch house PC specs
CPU: Intel Core i3-12100F
Motherboard: MaxSun Challenger H610
Memory: 16GB AMD Radeon R9 Gamer DDR4 3200MHz
Graphics card: PNY Nvidia RTX A2000
Storage: 1TB Gloway Basic SSD
Case: Captain S. V7-DC mini-ITX
Cooling: ID-COOLING IS-27i CPU cooler
The approach to this witch house PC is so simple, but very effective. It takes a big step further from just putting an action figure in your PC, with loads of intricate details that make it look like a miniature witch's house – you can barely tell it's a PC any more.
Will you be having dreams in the witch house tonight? Let us know your thoughts about this build on the Custom PC Facebook page, via Twitter, or join our Custom PC and Gaming Setup Facebook group and tap into the knowledge of our 390,000+ members. If you want to see more outstanding custom PCs and gaming setups, check out our massive guide to the best PC builds.