Inspired by space exploration, and the launch of the first satellite from Earth, Sputnik, PC modder Lobachev Andrey Vladimirovich built this space-age mini-ITX PC from scratch. The design eschews 90-degree bends to avoid the boxy look of standard PC cases, and it's constructed from laser-cut 2mm aluminum.
Custom PC has been celebrating the best PC builds since 2003, and our Facebook group has over 300,000 members. We've seen many custom gaming PCs, from case mods to scratch builds. Here PC modder Lobachev Andrey Vladimirovich (also known as S.PiC) guides us through the creation of this outlandish laser-cut aluminum PC build.
As a child, all the boys wanted to become astronauts, and I was no exception. I've always been fascinated by science fiction novels about space exploration, space travel, robots, spacecraft and distant galaxies. It was inevitable that this influence would find its way into my mods at some point.
I first got into modding when I was invited to participate in the Cooler Master Case Mod World Series (CMWS) 2016 competition. Since then, I've prepared my projects every year specifically for this competition, and in 2017, I even managed to take first place with my VEGA project. The Sputnik project was no exception and was made specifically for the CMWS 2020 competition.
Preparing for takeoff
The first sketches of this Sputnik-inspired PC began to appear a couple of years ago. At that time, I had no experience working with aluminum and decided to start with a simpler project to avoid expensive mistakes. This led to the creation of my SimpleCase project (shown in the video below), which helped immensely in learning to how to deal with laser cutting, bending and joining thick sheet metal.
As the year 2020 approached, the old pencil sketches of the Sputnik project were retrieved, and the project started afresh. Looking at these sketches now, I see how little the finished project has in common with those first drawings. The layout and frame were redesigned several times, and the perforations that are a crucial part of the overall design have changed a huge number of times.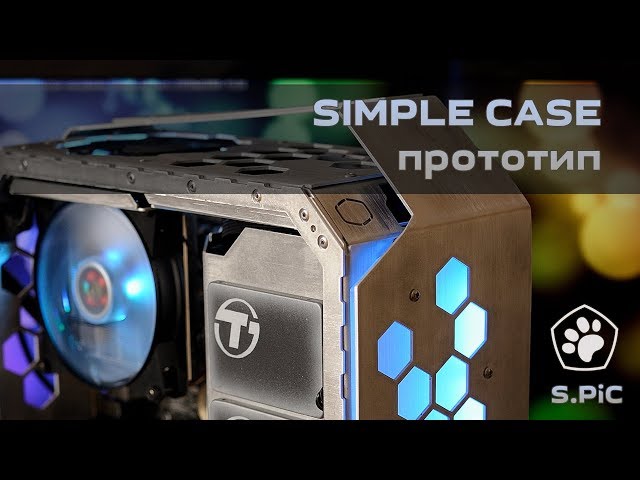 Both SimpleCase and Sputnik lean heavily on the use of laser cutting. As well as making it easy to cut out large sheets of aluminum and incorporate details like holes for fixings, it also makes it easy to create intricate shapes such as the perforations that cover this case. The case is constructed from 2mm-thick aluminum. This provides a good balance of lightness and rigidity. Although the final case was relatively simple to complete once assembled, it took a huge amount of time to develop the designs.
To design the laser cutting path, I used a 2D vector editor, with each piece designed separately – there was no 3D CAD here. After many months of careful designing, the drawings were ready and I was going to give them to my local laser-cutting facility, but something unexpected happened: a car accident.
A car veered off the oncoming lane and into me and my vehicle. The car was a write-off, but fortunately no one was injured. All available money was used to buy a new car, and the project was again frozen for several months. Time passed, during which the drawings were once again revised and refined, but finally the time came to get them cut. I was very thankful to the laser-cutting company for letting me film and photograph the process.
I am speed!
The Sputnik project was conceived as a high-speed spacecraft. Even static, standing on a table, it had to look dynamic. To create this effect, the front triangular section is sloped forwards, like a sprinter coming up from the blocks. Sputnik had its trailing aerial plumage already, which helps with the speedy look, but I wanted to make things more angular, to fit in with the triangular theme that was required to provide some flat surfaces for the components to fit on.
There are no simple rectangular shapes or 90-degree angles in the design of this case – every angle had to feel more interesting. Even the USB connectors on the front panel are installed asymmetrically, and the ventilation holes are triangles of all sorts of different types and sizes.
I also wanted the project to be installed not only in one horizontal position, but vertically too. The case can sit on any of its three sides, the top/front panel or on its antennae legs. The length of the legs ensures the cables coming from the motherboard's IO panel and the power supply aren't squashed when in this configuration.
I designed the front panel to be removable, which comes with a few benefits. For a start, it hides the rivets that were used to join the panels of the case. Secondly, it made installing the LED backlighting easier and thirdly, it means I can design a replacement panel.
I originally wanted to create a convex panel that would have been a closer match to the spherical shape of the real Sputnik but the bending machine available to me didn't support this. By making the panel removable, though, I can always return to the project if new equipment becomes available.
After laser-cutting, all the parts had to be sanded down and tidied up, then several had to be bent into shape too, which I did myself using a manual metal brake. This was a key area of learning from SimpleCase.
That case taught me the limits of the length of metal I could bend and how to increase those limits by adding perforations to the bend lines. The panels were then fitted together using rivets. Although these are a permanent fixing, it's easy enough to drill them out again if I decide to change something.
Cooling is crucial
An important factor in the design of this case was keeping it small. After all, Sputnik itself was very small, and creating the triangular, rotationally symmetrical and long-legged design I was hoping for would have made the case huge with anything other than mini-ITX hardware inside.
As is ever the case, though, mini-ITX cases can be challenging when it comes to cooling, due to the limited internal air space. And this applied double, as there's no room for any extra case fans in this project. As such, I had to think carefully about where and how to position components.
The ATX power supply, which was left over from a previous project, was installed across the case, taking cold air from the bottom and pushing out hot air through perforations on the side of the case. The mains power input is then redirected from the back of the PSU to the back of the case.
The motherboard sits behind the PSU, with the graphics card mounted at an angle above it, using a PCIe extension cable. This left very limited space for a CPU cooler, which meant a water-cooling system was going to be required. However, I couldn't use a fancy hard-line loop, and even conventional flexible tubing would have been a risk, as the panel with the radiator has to be removed to gain access to the inside of the case. Instead, an all-in-one liquid cooler was used.
There was enough space inside for a 240mm cooler with two fans that would pull air from the outside of the case, and blow it through the radiator and onto the graphics card's backplate, giving it a little additional cooling (the graphics card has two fans of its own that pull cool air through the holes in another side panel and vent it into the case).
The extra airflow also helps to cool the RAM and VRM area of the motherboard. The large cooler will also allow me to install a more powerful processor in the future. Being able to vertically mount the case also helps with cooling, as the hot air can easily flow up and out the perforations in the top/front of the case.
A little help from some friends
When I was sure that the project was viable, I turned to some sponsors for help. ASRock Taiwan and TeamGroup responded to my request. The folks from ASRock provided the ASRock Fatal1ty X470 Gaming-ITX/AC motherboard and the ASRock Phantom Gaming X Radeon RX590 8GB OC graphics card for the project. TeamGroup also provided a 2x8GB kit of its Delta RGB 3000MHz RAM as well as two 250GB Delta RGB SATA SSDs.
As this was a simple, balanced gaming PC build, it was decided to buy an AMD Ryzen 5 2600 processor, as it's sufficient for most games and affordable. It's an easy upgrade if a more powerful processor is later needed as well.
After receiving the components, I started fitting and refined some details of the project. For example, a new mounting plate for the SSDs was designed that helped show off their RGB lighting and hide their cabling. Side covers were also made with special air intake wings, which are not only decorative details, but also give rigidity to the side covers.
Time for a paint job
The rough assembly was successful and I had a brutal aluminum spaceship in front of me. People compared it to a projectile, which to me meant I'd succeeded in conveying the sense of speed and movement I was aiming for.
However, I didn't plan to stop there. I decided to paint the case in contrasting colors. The plan was to have a dark color for the main body, so it sinks into the background a little more, and then have a bright white for the wings and front panel, visually turning them into a kind of frame.
Once the decision was made, the case was disassembled and shipped off to get powder-coated. I had to wait a long time for the parts to return due to restrictions imposed in connection with COVID-19. However, eventually they did arrive and I was very pleased with the result.
Final assembly was a bit tricky, due to the compact placement of components, leaving very little room to maneuver. It was the cable management that took up most of the time, although this was made a little easier by having all the perforations to use for fixing cable ties.
It takes quite a long time to make and build a project, but if you shoot a video at the same time, it takes much longer. Fortunately, I'm not the only one who likes my hobby. I had lots of support from my curious cat (pictured below), who regularly manages to find her way into all my videos.
The head of the cat control department is known to all the subscribers of my YouTube channel. It's she who should be thanked for the logo on my projects.
My sons are also interested in my projects. They are still young and their favorite games at the moment are Rayman Legends and Lego Ninjago. For such games, this PC will be more than powerful enough. Hopefully, one day, they'll follow in my modding footsteps too. The Sputnik project won the bit-tech Mod of the Month May 2020 and is set to participate in the Cooler Master Case Mod World Series 2020.
Sputnik laser-cut aluminum PC specs
CPU: AMD Ryzen 5 2600
Memory: 16GB (2 x 8GB) TeamGroup Delta RGB 3000MHz
Motherboard: ASRock Fatal1ty X470 Gaming-ITX/AC
Graphics card: ASRock Phantom Gaming X Radeon RX 590
Case: Scratch-built from 2mm aluminum sheet
Storage: 2 x TeamGroup Delta RGB 250GB SATA SSD
CPU cooler: Cooler Master MasterLiquid Lite 240
PSU: Cooler Master MWE 750 full modular
Weight: 10.3kg
Dimensions (mm): 320 x 370 x 520 (W x D x H)
Sponsors: ASRock, TeamGroup
Hats off to you for creating this incredible piece of PC design Lobachev Andrey – it's completely unlike any other PC chassis we've ever seen, and we love the laser-cut aluminum and angular structure – it looks like it's ready for orbit.
Check out our best gaming setups guide if you want to see more outstanding custom PCs, and if you've built an extraordinary PC of any description yourself, then we'd love to see it! Join our Facebook group if you'd like to submit your own work for consideration.